America Loves 'The Way That I Love You,' Brand-New ASHANTI Smash
Radio and Video Buzz Builds For June 10th Release of Ashanti's The Inc./Universal Motown Album 'THE DECLARATION'
NEW YORK--(BUSINESS WIRE)--Making her stunning entrance in a dizzying cascade of piano and layered vocals, The Inc./Universal Motown Recording Artist ASHANTI puts it all on the line in the powerfully soulful and grandly dramatic "The Way That I Love You," the first single and video from her upcoming album THE DECLARATION.
The home truths of ASHANTI's "The Way That I Love You" are drawing a loud "Amen" from the radio and video outlets that have supported her from day one of her multi-platinum career as an artist and songwriter. The track is the No. 1 most-added song at Urban-formatted radio in it's first week, with more than 50 adds at major stations blanketing the east, midwest, south and west coast.
The video clip of "The Way That I Love You" is an immediate add on BET, MTV Jams, and MTV Hits. Ashanti co-hosted BET's 106th & Park to introduce the video and leak details of the new album. She also appeared on MTV's TRL as part of Spankin' New Music Week. The video reached the #1 spot with the most views on MTV.com and came in #2 on the TRL countdown in the first week. THE DECLARATION is scheduled for release June 10, 2008 on The Inc. Records/Universal Motown Records. Album producers and collaborators include such luminaries as Robin Thicke, Jermaine Dupri, LT Hutton, Babyface, and Pharrell Williams.
Grammy-winner ASHANTI has been a trailblazer and role model for the new breed of multi-talented young artists since her 2001 chart debut as a featured artist on the No. 1 Ja Rule single "Always on Time." She made history at the 2002 release of her first album Ashanti, which entered at No. 1 nationally, and sold 504,593 in its first week, granting her a spot in the Guinness Book of World Records. In the same week, she held the No. 1 and No. 2 singles in the Billboard Hot 100, with her self-written solo single "Foolish" and her collaboration with Fat Joe, "What's Luv?" and with "Always on Time," became the only artist since The Beatles to have her first three singles charting in the Top 10 simultaneously. Ashanti also co-wrote a fourth song in the same week's Top 10, Jennifer Lopez' "Ain't It Funny."
Both of ASHANTI's succeeding albums, Chapter II and Concrete Rose, are certified by RIAA for sales in excess of a million copies. As an actress, Ashanti appeared in the No. 1 box-office smashes Coach Carter and Resident Evil: Extinction, and in John Tucker Must Die and Bride and Prejudice. She is the author of the poetry collection Foolish/Unfoolish: Reflections on Love, and the forthcoming teen-targeted life and style book Ashanti Style (Jump at the Sun/Hyperion).

published on March 10 th, 2008
New MIO Interview: The World Famous DJ D Lyfe
DJ D-Lyfe Interview 2008
DLyfe: Good evening Murder Inc Online, Right now it's early day, getting dressed about to start a show and I have so many things to tell you. First of all, I have an album coming out called the Ka-fil-ta Fish Lounge. I called it the Ka-fil-ta Fish Lounge because the wording just sounds funny, it sounds sporadic, I know it's "Jewish Fish" but it's just to have the name Jewish fish or Ka-fil-ta fish it's just very rare and it's gonna be something that's so exciting. It's gonna be a mixture of old school artists, new school artists, overseas artists, we're gonna do R&B we're gonna do pop, house everything it's gonna be a mixture of everything.
MIO: Who will you are doing the album with?
DLyfe: That one is gonna be by myself, and that one will hopefully be coming out around the beginning of 2009 but I'm gonna put out a couple of mixtapes with big DJ's such as Big Mike, I'm gonna do some stuff with Superstar Jay, I don't know if you know Superstar Jay last year he won the Justo Mixtape Awards and I think he was the newest upcoming hip hop mixtape king and they just crowned him. I'm doing something with DJ Drama I think khaled is gonna get on it for some stuff.
Also within my thing because I have a few things that I'm doing I have this company called Grinding Entertainment, that's just my whole DJ world and I have my first artist on there, he's a southern artist and he's called Adonis Karon, he's from Streetport Louisiana. He's like the down south Mase when Mase was hot, u know happy, partying, good stuff. In his seriousness of writing lyrics, his pen is lethal. The first record that we have with him is called "Air it out" and we have a leak of another record that's called "What She Doin" featuring Young Jeezy and that was produced by my man Camron who did "Upgrade" by Beyonce. That's gonna be huge, we're looking to release that, right now I'm just shopping for deals for him we were talking to Bad Boy South, Universal Records as well as Asylum over at Columbia.
Another Project is I have a big big tour coming up with Genuwine, Tyrese and Tank, it's called "The Ladies Night Tour"
Read the rest of the interview
here
and leave your comments on our
forum.
published on March 9 th, 2008
Shade Sheist To Release Mixtape March 11th, INC Features
Shade Shiest is to release a new mixtape on Tuesday the 11th of March that features features from Cadillac Tah and Irv Gotti aswell as production from Irv Gotti. You will be able to download it for free on
dubcnn.com
when it comes out. Leave your opinions on our
forum.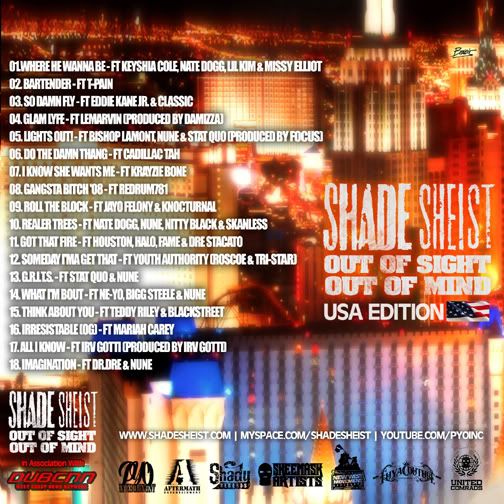 Tracklist :
01. Where He Wanna Be - ft Keyshia Cole, Nate Dogg, Lil Kim & Missy Elliot 02. Bartender - ft T-Pain 03. So Damn Fly - ft Eddie Kane Jr. & Classic 04. Glam Lyfe - ft LeMarvin (Produced by Damizza) 05. Lights Out! - ft Bishop Lamont, Nune & Stat Quo (Produced by Focus) 06. Do The Damn Thang - ft Cadillac Tah 07. I Know She Wants Me - ft Krayzie Bone 08. Gangsta Bitch '08 - ft Redrum781 09. Roll The Block - ft Jayo Felony & Knocturnal 10. Realer Trees - ft Nate Dogg, Nune, Nitty Black & Skanless 11. Got That Fire - ft Houston, Halo, Fame & Dre Stacato 12. Someday I'ma Get That - ft Youth Authority (Roscoe & Tri-Star) 13. G.R.I.T.S. - ft Stat Quo & Nune 14. What I'm Bout - ft Ne-Yo, Bigg Steele & Nune 15. Think About You - ft Teddy Riley & Blackstreet 16. Irresistable (OG) - ft Mariah Carey 17. All I Know - ft Irv Gotti (Produced by Irv Gotti) 18. Imagination - ft Dr.Dre & Nune
published on March 8 th, 2008
Charli Baltimore 'Potrait Of Love' Remix
Thats right Charli has dropped yet another remix this time on Cheri Dennis's hit 'Potrait Of Love'. Charli seems to be every where at the moment she was on BET's Rip The Runway last week aswell as Wendy William's tv show. We could be seeing allot more from her in the coming weeks so keep checking back to MIO for your latest Chuck news and tracks. Leave your opinions on our forum.



published on March 6 th, 2008
New Lloyd Interview
When The Inc. started to cave under pressure from CEO Irv Gotti's federal money-laundering case in 2005, many Inc. artists seemed to duck and cover – but Lloyd stayed busy. The 22-year-old New Orleans native sprinkled his feathery vocals on hooks for 8Ball and MJG, Young Jeezy and Rick Ross, and leveraged his relationships with various DJs to help Lil Wayne, become one of 2007's hugest hits. Along with the slinky second single "Get It Shawty" Lloyd catapulted into the "TRL" stratosphere, and Street Love went gold. Rhapsody caught up with Lloyd, eager to follow up on last year's success, while in New York promoting "How We Do It in the A," featuring Ludacris, the first single from his upcoming as-yet-untitled third album.
Who are you working with on this album?

Lloyd: I went back to my home team, Jasper [Cameron] and [Big] Reese [who wrote and produced "You"]. We collaborated with Lil Wayne again. We're bringing in Snoop Dogg and fabolous for this monster song, and one with Nelly that was produced by Polow Da Don. I also had a chance to work with these kids, Woodwork, and young guys such as J-Lac, Usher's brother.


How involved was Irv creatively for this project?
I'm the creative force behind my projects. I look at record labels almost like a bank whose job is to give a loan to fund for a project. I don't look for a label to give me creative direction or a musical enhancement. Irv's energy is really cool. I'm not really going towards reality series yet. Gotti's got "Gotti's Way." I'm still in the lab.


So, he wasn't really creatively involved?

Nah. Gotti will tell you himself that he likes for me to have creative space. He thinks that's the only way I can become the greatest I can be.


At a certain point, you and Irv were having creative differences, right?
Yeah. I think me and Irv's creative difference lied in Irv generally being hip-hop. He's gangsta rap. He likes everything hardcore, in your face. Irv is like, "We should remake this Eric B. for President beat or Snoop Dogg's 'Nitches Ain't Sh*t' song and put an R&B song to it." But we always find a common median.


Although you and Wayne had been cool, how come "You" was the first time you actually released one of your collaborations?
At the time, I needed to get something out in the game. I have all these freestyles with Lil Wayne that nobody has ever heard. Me and Wayne had been close friends before "You." Whenever he would come to Atlanta, he would come pick me up. We would play songs. I would say, "You know what my favorite Lil Wayne song is?" And I'd spit. Then he'd be like, "My favorite song you did ..." and it'll be like a slow jam. It'd be all these hardheads in there and he'd be singing. After one concert in '05, he was so amped up, he was like, "Let's go to the studio."

Wayne comes into Dallas Austin's studio with about 30 people. The studio manager freaks out and tells everyone, "If you're not recording, you have to leave." So Wayne gets furious. He's like, "I don't need this f*ck*ng studio. I don't need no Dallas Austin. F*ck that sh*t. I'm a Cash Money Millionaire." And he storms out. So the Outlawz opened up their studio. So I come out the booth. Weezy go in and do about 38 bars. The beat cuts off and he's still rapping. He's just killing it and I'm saying to myself, "Oh, this dude is incredible. I gotta work with this dude for real." And from there, we started our relationship. We've even talked about doing an album together and calling it Best of Young Worlds.


Like Bow Wow and Omarian?
No. Lloyd and Lil Wayne is a different kind of intensity from Bow Wow and Omarion. We appeal to a much older crowd, and we a little bit more hardcore with our style. But yeah, we definitely thinking about it.


Both you and Wayne had fathers who were murdered. Your father was a saxophonist who directed a church choir. How did he end up getting murdered?
You'd be surprised. My father was from the worst housing projects in New Orleans, Calliope. He was like the shining star or the concrete rose. He met my mom in college at Xavier, which is an elite university. He founded a Kappa organization at Xavier. But you are the company you keep. A lot of his friends were still into a lot of bad things, and it caught up to him. And a lot of people say, "I'm sorry that you lost your dad." And I say don't be sorry. Growing up fatherless built my appreciation for women by having a strong mother; it also inspires me to be the father that I never had one day.


Watching "Gotti's Way," was there anything you found out that you didn't know about Irv?
I always knew Irv was really big on his family. I always knew that Irv faced a lot of obstacles raising his stepdaughter. I always knew Irv's fight to have a good relationship with his wife. At the same time, he's Irv Gotti, the CEO of one of the hottest record labels. Temptation is always out there. I'm always the kind of guy that'll come around and go, "You should get back together with her. She's really good for you." He's just like, "Uh, you know, if I get back together with Deb, I just want to make sure that I don't care about nothing but Deb. 'Cause if we get back together, that's it for me." Irv's still a kid at heart.


Did you attend Irv's trial?
I was there up until the day they called the verdict and said, "Not guilty." The tripped-out part is the when the verdict was actually announced, I couldn't take it. I had to leave. I sat in the car and started writing.


What did you do to prepare in case Irv had to go away?

I prayed. I never thought "in case he goes away." I always felt like he's gonna be aright. My backup plan was … I guess people say I wanted to leave. I had a few offers. I met with Clive Davis, Craig Kallman, and Tom Wily over at Warner Brothers. I met with Capitol. When the trial was happening, I had just created "You." At the time, Lil Wayne wasn't on it. I was telling Irv, we need to put this out now. He goes, "My hands are tied. What do you want me to do? It's federal."


Did it bother you that Ashanti only attended the trial briefly for two days, according to Irv?
I was so wrapped up in my own crazy world. I didn't even care to think about it. I didn't even notice. The whole time I was in there, I was just like, "That's my big brother. He's facing 20 years."


Do you feel like Ashanti turned her back on the Inc.?
I think Ashanti is a beautiful person inside and out. And I think she's been through a lot with those guys. I think it comes a point in every person's career when you have a fork in the road. Either you stay to the right or you go left. I just think Ashanti wants to try left. I think whether she's there or not, me and Ashanti are always gonna be close.


Are you kind of a mediator between Ashanti and Irv?
I'd like to think so. I'm more built on love. I'm not with the bullsh*t. I have a song on my album with Nelly. Irv's arch nemesis? I don't know. I don't care. Nelly is one of the best rappers of my time.


Did Irv have a problem with you having Nelly on a song?
Um, no. When I played it, it was funny because Sylvia Rhone [president of Universal Motown Records] was like, "I don't know if you should play it [for Irv]." I said, "Forget that. This is great music." But she was a little apprehensive.


You were around when The Inc. was on top. What's the difference between then and now?
I never got down with the Inc. when they were on top. When I came with the Inc., they were facing a lot. My whole attraction was that I could revive or breathe a little life into this place because it had great history. I was in a place that was built on love and I just wanted to bring some of that in there. Before Street Love, there wasn't a lot of noise. But after, Ashanti put out a record and Ja put out a record. So it opened up the market for what we had. It's like the Twin Towers. They knocked them down out of malicious intent and hatred. Those buildings were built on love, hard work, sweat and dedication. Same way with the Inc. When I came there, it was ash and rubble. I'm like, "I gotta restore this building"


A lot of people see you as the only thing poppin' on the Inc. right now. Does that put pressure on you?
[Laughs.] Nah, not one bit. I know I'm one of the best and as good as all these guys that's out here. Yet, I don't tend to get a lot of the credit that I deserve. So, I feel the pressure of proving it. I'm not one to sit here and whine about it.

Did it bother you when 50 Cent said you looked like Santa's little helper?
No. I think it's funny. I think it's kind of cool that he would mention me. I made a lot of noise. I think 50's hilarious. My essence is not to get mad.


When you signed, would it have been conceivable that you could be the biggest star on the Inc. within five years?

Yeah, man. I did all kinds of talent shows around Atlanta when I was six or seven years old. I signed my first deal when I was 10. I'm like a child prodigy. I'm destined to be one of the young people on the forefront of this. I did doubt if I would get the chance that I deserved or if I would always have to be in the shadow of Ashanti and Ja or the shadow of Usher and whoever else was hot at the time. But, I never once have doubted my ability.


rhapsody.com
published on March 4 th, 2008
Happy Birthday Ja Rule
"2-29 in 76" Ja Rule rapped on the opening track "Dial M for Murda" from 2001's Pain is Love. It's been Four long and eventful years since 2-29 last past but here it is again.

We at Murder Inc Online would like to wish Ja Rule a very happy 32nd (or 8th depending on how you look at it) birthday and wish him 4 more successful and happy years.

Happy Birthday Ja Rule, your loyal fans at MIO.

published on February 29 th, 2008
Ja Rule In Hot Water Over Bail Postings
A New York judge has ruled that Ja Rule's co-defendants in his gun
possession case must pay their own bail, revoking the arrangements made by the rapper himself.

According to Newsday, State Supreme Court Justice Micki Scherer said Wednesday (Feb 27), that Ja, born Jeffrey Atkins, "put himself in the position of perhaps controlling the outcome of the case," adding that she felt it could pose a big problem.

Ja Rule was arrested on July 22 along with limo driver Mohamed Gamal and Ja's road manager, Dennis Cherry, following a Lil' Wayne concert at the Beacon Theater in New York.

The charges resulted from a .40 caliber handgun discovered in the rapper's Maybach by police, who searched the vehicle after detecting the smell of marijuana.

The following day, Ja posted Gamal and Cherry's combined $170,000 bond, as well as his own $150,000 bond, using his $3.5 million Saddle River, NJ home as collateral.

Attorney Stacey Richman, who represents all three men, said the defense would make other arrangements for Gamal and Cherry's bail.

Richman also represents Lil' Wayne, who was arrested on similar charges an hour after Ja Rule, and pleaded not guilty in his case on Monday (Feb 25).

Prosecutors in the case are also seeking to obtain DNA evidence from the three defendants, to determine the rightful owner of the recovered handgun.

Judge Scherer is expected to make a decision on that request next month.

allhiphop.com

published on February 28 th, 2008
Charli Baltimore 'Diamond Girl' Remix
Check out yet another Charli Baltimore exclusive right here on MurderIncOnline.com. This time Charli has decided to remix Ryan Leslie's 'Diamond Girl'. Charli is on fire on this track and seems to be getting her to best and lets hope these tracks keep coming. Leave your comments on our forum and give it a listen below.


published on February 25 th, 2008
Vanessa Carlton - Hands On Me Video
Check out the video for 'Hands On Me', the second single from Vanessa Carlton's 'Heroes and Thieves' Album. Be aware the syncing on this video seems to be off so this may not be the finished version we are still waiting on Universal to release the video. Leave your feedback on the forum



published on February 15 th, 2008
Ashanti 'The Way That I Love You' Video
The Video for Ashanti's first single off 'The Declaration has leaked earlier the it was suppose to check it out below and leave your opinions on the forum.



published on February 13 th, 2008
<< Previous 1 2 3 4 5 6 7 8 9 10 11 12 13 14 15 16 17 18 19 20 21 22 23 24 25 26 27 28 29 30 31 32 33 34 35 36 37 38 39 40 41 42 43 44 45 46 47 48 49 50 51 52 53 54 Next >>